Soooo,
Yes it is still Sunday. The second day of Sunday even. By law, no less.
We celebrate a second day of... a few things over here. Christmas, Easter and Whit Sunday. So today is the second day of Easter, a public holiday. Last Friday, Good Friday was another day off at work. Due to not sleeping, I took a few hours last week, at the end of the day, and sat in bars (don't judge me) working on clearing out my head. Seems I found me a spot, so I'll be returning there regularly. They don't look at you funny (much) when you whip out a stack of paper and a pencil and start scribbling and doing weird things with symbols.*
On Friday I got some help clearing cobwebs from a dear, slightly loony friend. Hefe Weissen is our mutual friend, and the bill was loads smaller than last time, so that was nice as well. I'll be taken a course in house renovation with her, free of charge, hurrah!
Due to this course, and me enjoying my... socks off (too warm for April), Scotland has been put on hold. It's all about feeling good about what you're doing,** and I've been having a bit of a good time lately, so I'm just going with that. I'm sure I'll get some kind of response on that later this week.
Anyroad, while I wasn't hanging around in bars or out eating or knitting a stranded sock, I finally finished the bfl/silk/silk 2-ply. 650 meters of it. It stunk when wet.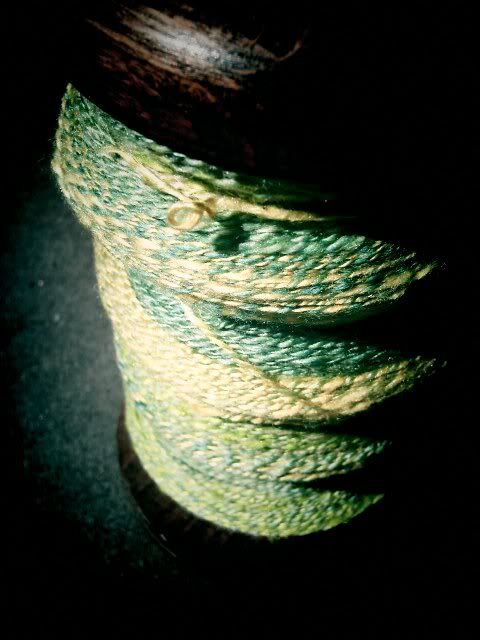 This will be a weird week, with today off, a short day on Wednesday because of tri-weekly appointment, and then a short Thursday to be un-rushed before the Big Night. To boot, the folks will be in Japan, and I'll have Friday to recover. Looking forward to it!***
* drawing charts. Stop that thought.
** it is, isn't it?
*** not the recovery bit, the bit just before that.